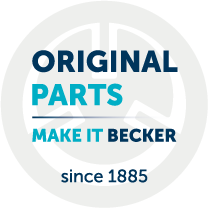 Parts & Accessories
Becker Original Parts & Accessories
No matter what pump technology or manufacturer, using the right accessories and replacement parts is essential to the proper operation of your vacuum or pressure pump. Accessories are generally external to the pump and range from all types of filtration to gauges, starters and beyond. Using original spare parts is vital to ensuring a long life of your pump. Cheap, knock off parts always result in premature pump failure.
Increase the Longevity and Performance of your Pumps
Only Becker Original Parts are specifically engineered, manufactured and tested to deliver the optimal performance of your Becker vacuum pumps, compressors and regenerative blowers, and vacuum pump parts. Becker Original Parts are not only guaranteed to fit but help maintain valuable warranty coverage.
Original OEM vacuum pump parts maximize the life of your equipment while lowering your annual maintenance costs.
Consider keeping a Becker Preventive Maintenance Kit on the shelf to ensure you have all the components on hand for regularly scheduled maintenance. Use Becker vacuum pump oil to extend your warranty.
We stock a full range of replacement parts. Our knowledgeable staff can help identify the right part and make sure you get it when you need it! Just call our USA headquarters at 888-976-5911.
The benefits of using genuine parts:
Lower annual maintenance costs
Optimal pump performance
Extend the life of your pumps
Maintain warranty coverage
Increase efficiency
Full inventory in stock and ready to ship
Friendly, knowledgeable staff
Contact the factory or Customer Support now for help with selecting the best vacuum pump replacement parts to fulfill your requirements.