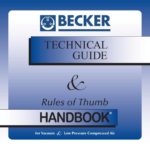 Becker has designed a comprehensive handbook for the use of our distributors and customers as an aid in the designing of applications involving vacuum and low pressure compressed air. Just some of what you'll find in the complete handbook includes: Similarity of units CFM vs. SCFM vs. ACFM Motor cycling...
Testing allows your company to find out exactly how a particular Becker machine will function for your needs.
Becker is the first manufacturer of industrial vacuum pumps and low pressure compressors to supply the new IE3 (International Efficiency) Premium Efficiency standard motors in the United States across Becker's complete line of both vacuum and pressure pumps.
REQUEST INFORMATION
WE ARE PLEASED TO ASSIST YOU IN SERVICING YOUR BECKER PRODUCTS.
Main Contact Form
"*" indicates required fields
When can I expect to hear back?
Our goal is to respond to all care and employment inquiries within 24 hours of receipt. Our Becker Pumps Corporate offices are generally open Monday – Friday from 8am to 5pm EST time.