Vacuum Systems
When maintaining vacuum or a specific vacuum level is mission critical, multi-pump systems are generally the best answer. With the advent of frequency drives, single pump options are available, but they do not provide the redundancy of multiple pumps handled by a common control panel. Just like choosing a pump, understanding the required vacuum level and flow is the most important factor in choosing the right pump technology for your vacuum system. Becker's variety of pump technologies and control options fit almost any need.
Becker is the only manufacturer to offer a 3-year warranty on all systems.
Vacuum Systems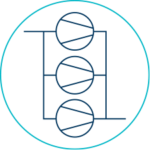 In central systems, multiple single pumps on separate production machines are replaced by just a few larger vacuum pumps and/or compressors in a separate room (control room, basement etc.). The units are connected to the production machines via pipes.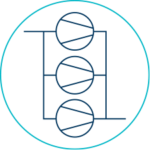 The VARIAIR Central System (VACS) from Becker provides a compact solution for supplying air to one or more production systems. VACS cuts noise in the work environment and reduces operating personnel exposure to high temperatures through the absence of direct heat sources.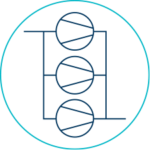 Becker's specialty vacuum systems are custom-engineered for a wide range of markets. From maple sugar extraction and vacuum packaging in the food processing industry, to industrial CNC routing, these customized systems provide superior performance for their specific application and market.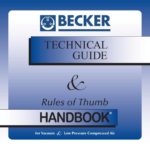 Becker has designed a comprehensive handbook for the use of our distributors and customers as an aid in the designing of applications involving vacuum and low pressure compressed air. Just some of what you'll find in the complete handbook includes: Similarity of units CFM vs. SCFM vs. ACFM Motor cycling...
For manufacturers and resellers, calculating the true cost of a vacuum pump before purchasing is often a challenge. We look at the real factors that affect what you'll pay for a new vacuum solution.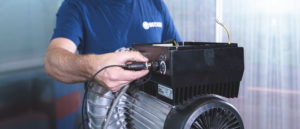 For many applications, a custom vacuum pump design is the best way to get a fit-for-purpose solution that improves efficiency and doesn't compromise on features. However, the customization is only worthwhile if it meets your specific needs.
REQUEST INFORMATION
WE ARE PLEASED TO ASSIST YOU IN SERVICING YOUR BECKER PRODUCTS.
Main Contact Form
"*" indicates required fields
When can I expect to hear back?
Our goal is to respond to all care and employment inquiries within 24 hours of receipt. Our Becker Pumps Corporate offices are generally open Monday – Friday from 8am to 5pm EST time.