Clear Inlet Filters
These Clear Polycarbonate Filters offer easy visual inspection of the filter element. At a glance, your maintenance staff can quickly see if the element is dirty or clogged. Why should you have these filters in your plant?
Why should you have these filters in your plant?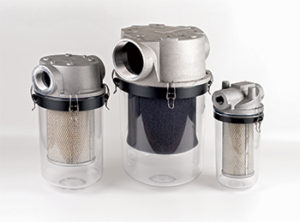 Clear Filters are installed "in line"
No more piping issues with horizontal configuration.
Easy to install into existing vacuum lines.
When your vacuum process is turned off, no filtered particulates can fall into the pump.
Visual Inspection
Significantly reduces the risk of a clogged element which can cause overheating, pump failure, and loss of production.
No more interrupting your vacuum process to check the filter elements.
Less maintenance time required for routine inspections.
Cyclonic Filter BRD-60
Keep sawdust and particulates out of your pump to keep it running like new, worry free
The workplace can be a very dusty environment, especially in the woodworking industry. The innovative Becker Cyclonic Filter BRD-60 keeps the vacuum relief valve on your Becker Model VTLF/VXLF vacuum pumps from clogging with saw dust and particulates. Utilizing the new Becker Cyclonic Filter BRD-60 is a simple and cost effective way to prevent costly, premature vane wear or, worse yet, bearing failure.
Becker Reduces Dust,
Becker Reduces Downtime!
Benefits of the Becker Cyclonic Filter BRD-60:
Minimize maintenance costs
No filter elements to change saving money and downtime.
One-time purchase will last the lifetime of the pump.
Mechanical and maintenance-free
Comes completely assembled and installs in seconds.
Operation is purely mechanical. Once installed, there is zero maintenance.
Easy to retrofit
One size fits all Becker VTLF/VXLF pump models.
Comes with a fitted adapter for quick installation. Simply screw it in!
Contact the factory or Customer Support now for help with selecting the best vacuum pump filters to fulfill your requirements.