Whether you are buying a regenerative blower for a manufacturing, environmental, or secondary packaging application, regen technology from Becker offers a moderately priced, reliable unit that can last a decade or more with minimal maintenance.
Several different types of blowers could meet your application's pressure and flow specifications. Regenerative blowers, or side-channel blowers, fall in the middle range of pump types for flow, pressure, and horsepower specifications, making them useful in a huge variety of commercial operations.
Selecting the right regenerative blower for the job will ensure that it lasts the maximum possible lifetime. And a well-built regen will last longer than a cheaply made one, especially when operating near its design limit.
To determine whether a regenerative blower is the best fit for your application, it's important to evaluate the features and benefits that they provide. Continue reading for eight factors to consider when selecting a regenerative blower.
1. REGENERATIVE BLOWER TECHNOLOGY IS EFFICIENT AND RELIABLE
Regenerative blowers generate vacuum suction or pressurized air for industrial applications. The turbo dynamic regenerative blower technology consists of a contactless, fast rotating impeller with sealed bearings inside a blower housing.
Arranged on both sides of the impeller are two ring-shaped separate side channels. The rotating impeller pulls air in through the inlet side, accelerates the air or gas inside the housing, and then discharges it through the outlet side once it is fully pressurized. The result is a highly efficient pump providing high-volume flow using less power that is practically wear- and maintenance-free.
2. REGENERATIVE BLOWERS WORK IN MANY APPLICATIONS AND INDUSTRIES
The combination of low pressure or low vacuum along with high-volume flow makes regenerative blowers ideal for generating suction in heavy-duty industrial applications. Markets such as secondary packaging, mechanical engineering, and manufacturing use single-stage regen blowers for holding objects in place, removing fluids, air, and other materials, and picking and placing goods.
Regen blowers also supply pressurized air for fuel cells and battery production as well as wastewater treatment and other applications.
3. SELECT A SINGLE-STAGE OR DOUBLE-STAGE BLOWER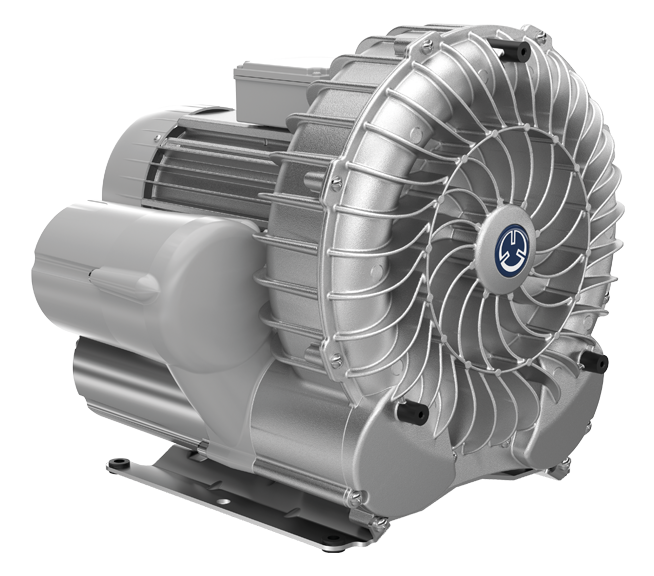 Both single-stage devices with a high-volume flow and two-stage devices with higher pressure differential but lower flow are available. Your choice will be determined by the necessary flow along with either the vacuum or pressure level.
With single-stage blowers, air rotates around the inside of the housing once before being exhausted. The double-flow operation over two impellers produces low pressure and low vacuum levels.
With double-stage blowers, air rotates around the inside of the housing twice before being exhausted. For this reason, double-stage blowers can provide a deeper vacuum and/or higher pressure than a single-stage blower.
4. BUILT-IN CLEAR INLET FILTER OFFERS MINIMAL MAINTENANCE AND MAXIMUM LONGEVITY
Becker regenerative blowers require almost no upkeep, and when maintained properly, our regenerative blowers can last up to 12 years. However, ambient conditions, such as temperature, moisture, or external materials like dust, can have a deleterious effect on the operation and lifetime of a blower.
For this reason, cleaning the inlet filter is all the maintenance required for a regenerative blower.
That's why Becker designed its patented built-in inlet filter with a clear housing on our 130, 201, 300, and 400 models. The clear housing allows for fast visual inspection and minimal maintenance time.
5. AN INTEGRATED PRESSURE RELIEF VALVE PREVENTS OVERHEATING
The main enemy of any rotating equipment is heat, so it's important to make sure the motor fan has enough clean air to cool the regenerative blower to maintain low operating and exhaust temperatures.
Select Becker regen models, including the 130, 201, 300, and 400, come with an integrated pressure relief valve that allows cool air in and prevents overheating. 
6. OUR REGENERATIVE BLOWERS OPERATE QUIETLY
For certain applications, noise can be a major factor in pump selection. Becker regenerative pumps are available with inlet and discharge silencers.
7. TRY BEFORE YOU BUY WITH OUR TEST BLOWER PROGRAM 
Ambient conditions, including temperature and air or gas quality, will have an unknown effect on the operation of a regenerative blower. To ensure that you find the right pump for your needs, Becker offers a free pump trial and test program.
If there's a specific upgrade or pump technology you're considering, or if you're on the fence about a purchase, the 30- to 90-day trial program can help determine whether a specific Becker regen pump is the right choice. It's the perfect chance to gauge how a unit works in situ, and ensure you are buying a regenerative blower precisely suited for your job.
8. BECKER HIGH-QUALITY REGENERATIVE BLOWERS ARE BUILT TO LAST
Building on over 130 years of experience in pump technology, Becker regenerative blowers are German-built and designed to maximize the life of the pump – providing you with the most value for your investment. Our entire SV line of blowers was recently redesigned to maximize performance with increased value.
EXPERT ASSISTANCE IN BUYING A REGENERATIVE BLOWER FOR YOUR APPLICATION
As a leader in the field of suction and blast air, Becker Pumps provides complete solutions driven by your individual needs. We can replace any other brand with similar specifications. And no middleman means better pricing.
Whether you're looking for a replacement blower or designing OEM equipment, at Becker, we have more in-stock regenerative blower models to select from than any other supplier/manufacturer, giving you a broad spectrum of flow rates and pressures to choose from.
Learn more about selecting a regenerative blower for your application by clicking below.