DVT Series
Oil-Less Industrial Vacuum/Pressure Pump
Becker's DVT Series direct-drive combined blast/dual vacuum pumps rule out the need to purchase separate pumps for vacuum and pressure for the same application. The are designed with convenience and minimum maintenance in mind. Regulating valves, provided as standard equipment, and filters are on the same side of the pump for easy access, while checking or changing vanes is a simple operation requiring only a few minutes of time. Our oil-less combined blast air/dual vacuum pumps are rugged and durable.
Each DVT Series pump comes standard with:
Built-in, large inlet filter
Built-in aftercooler
Pressure/vacuum regulating valve
Features
100% dry operation
Long vane life
Continuous duty rated
Air-cooled
Single shaft direct drive
Compact design
Variety of motors available
Benefits
Low operation and maintenance costs
Cool operation
No cycling times
Quiet operation – no silencer enclosures necessary
Small footprint for space savings
Straightforward construction for fast and easy service on-site to reduce downtime
Product Information / Specifications
Application and Market Uses
The DVT Series' oil-less combined blast/dual vacuum pumps are rugged and durable, with low operation and maintenance costs. They are perfectly suited for many industrial applications.
By Application
Compressors are used to build up pressure to supply air for the aeration of waste water, blast air for printing, wine presses, drainage system reliners, and other processes.

Many modern production processes require the use of vacuum to transport, lift, and place goods and materials, including feeders for printing, secondary packaging, and other automatic loaders.
By Market
Becker provides customized vacuum pump and compressor solutions for numerous mechanical engineering applications across the world, such as conveying, transporting, fixing, lifting, handling, drying, cooling and many more.

Whether you need an individual unit or a system, Becker's vacuum pumps, compressors for blast air, and combined pressure/vacuum pumps are made for the various processes used in the printing and paper industry - from the pre-press stage, to sheet fed and digital presses, to the post-press.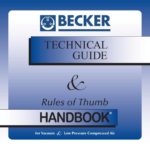 Becker has designed a comprehensive handbook for the use of our distributors and customers as an aid in the designing of applications involving vacuum and low pressure compressed air. Just some of what you'll find in the complete handbook includes: Similarity of units CFM vs. SCFM vs. ACFM Motor cycling...
For manufacturers and resellers, calculating the true cost of a vacuum pump before purchasing is often a challenge. We look at the real factors that affect what you'll pay for a new vacuum solution.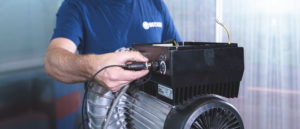 For many applications, a custom vacuum pump design is the best way to get a fit-for-purpose solution that improves efficiency and doesn't compromise on features. However, the customization is only worthwhile if it meets your specific needs.
REQUEST INFORMATION
WE ARE PLEASED TO ASSIST YOU IN SERVICING YOUR BECKER PRODUCTS.
Main Contact Form
"*" indicates required fields
When can I expect to hear back?
Our goal is to respond to all care and employment inquiries within 24 hours of receipt. Our Becker Pumps Corporate offices are generally open Monday – Friday from 8am to 5pm EST time.