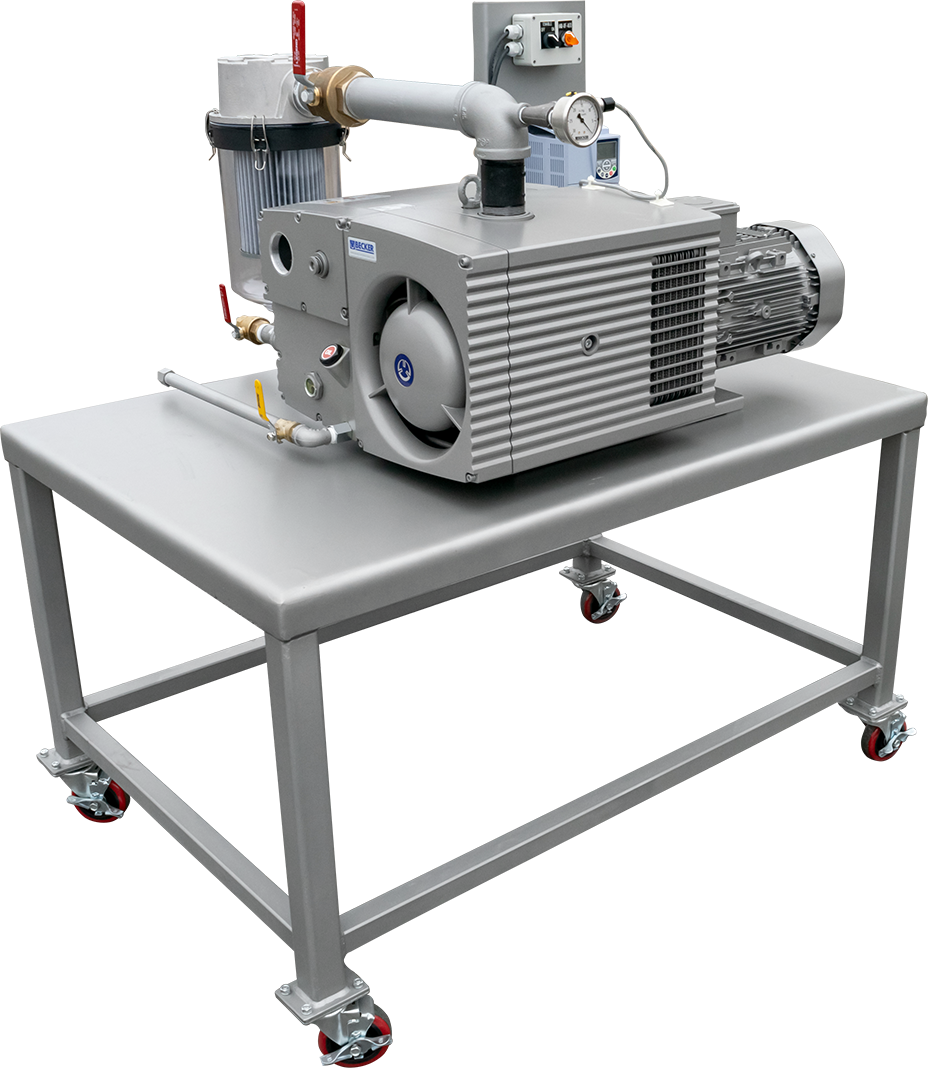 Advantage M - Oil-Lubricated Rotary Vane Maple Vacuum Systems
The Advantage M – Oil-Lubricated Maple System is a specialized system designed for efficient maple sugar extraction, for up to 21,100 taps (depending on terrain and setup). It features one Becker brand oil-flooded rotary vane vacuum pump with integrated filtration and frequency control. Pump and control components are mounted to mobile stand. VFD and vacuum transducer provide two control options for manual or automatic control.
Click here to view complete Advantage M – Lubricated Maple System specifications.
Features
Oil sight glass for visual inspection
Clear canister filter with manual drain to protect pump against liquid ingestion
VFD and vacuum transducer provide two control options: Manual Control and Automatic Control
Benefits
End vacuum of 29″ Hg+ provides increased yield
Increased pump lifespan thanks to gas ballast
Manual control option allows for control based on user set frequency
Automatic control option controls system based on feedback from vacuum transducer to maintain a constant vacuum level
Product Information / Specifications
APPLICATION AND MARKET USES
Becker has been building specialized vacuum systems in the US for over 3 decades. The Advantage M – Maple System is the ideal solution for the maple syrup production and maple sugar extraction industries, as well as others. Click on your market or application below to learn how Becker's vacuum systems can help your business or application.
BY APPLICATION
Vacuum pumps and blowers are used for a wide range of applications that require the removal of fluids, waste, air, as well as various other materials.
BY MARKET
Becker vacuum pumps and accessories are designed to be sturdy and durable with low maintenance and operating costs, and are perfectly suited for use in maple sugar extraction.
Strange noises, slipping production, and inconsistent suction can all be signs a vacuum pump is not keeping up with the demands of a secondary packaging application. We take a look at eight telltale signs that indicate a secondary packaging pump is underperforming and what you, as a packaging equipment supplier...
REQUEST INFORMATION
WE ARE PLEASED TO ASSIST YOU IN SERVICING YOUR BECKER PRODUCTS.
Main Contact Form
"*" indicates required fields
When can I expect to hear back?
Our goal is to respond to all care and employment inquiries within 24 hours of receipt. Our Becker Pumps Corporate offices are generally open Monday – Friday from 8am to 5pm EST time.